Online Database Development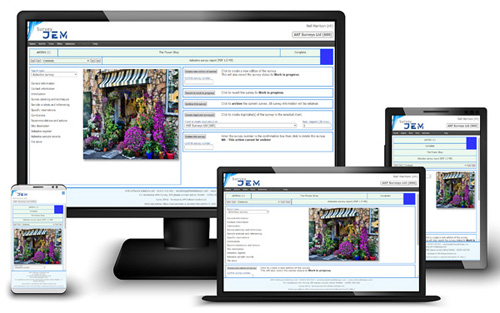 A new way to work
What could a computer system that is available anywhere you, or your customers, have access to the internet do for your business? Not a program installed on your PC or on a server at your office, but one that is available just about anywhere. Think of the benefits:
It is available anywhere you, or your customers, have access to the Internet
It enables real time sharing of information between people in different physical locations
Easy to back up all your business information
There are no worries about losing your data if your PC crashes or is infected with a virus
Security settings to control user access to applications and associated data
No software to download or install on your business PCs
Easily update any changes only once, not on multiple machines or at multiple locations
Reduce the need for technical staff with less hardware and software
All this means complete flexibility to move yourself, or your business, at any time to follow opportunities.
An online database could be the perfect solution
The only limit is your imagination! Whether you need to share information with partners or employees in different locations, manage resources at a number of sites or want to expand your business by providing an online shop, talk to AFM about the benefits and possibilities of an online database solution.
Up to the minute information
With a standard website once it has been "published" it will not change until the next edition; whenever AFM receive a request to edit the content. But database-driven websites uses programming in addition to the layout to not only allow the flow of data in and out of the site but to interact with the data. For example if you are a property maintenance company you could update details of properties surveyed. Or a retailer could update information, products and prices in-house. Or an online directory may allow businesses to sign up and manage their own profiles.
You have control over how up to date the information on your Website is; the real beauty and power of a website with an online database is that generally you do not need any programming knowledge to update or maintain your company website.
Website and online databases
A website with an online database gives you the ability to upload information on your own. While a website with a database may initially cost more than a regular website, because it is more complex, it may still be much more cost effective in the long-term. If you are a relatively small business or the products and services that you provide need few updates or amendments then an ordinary website may be all you need. But if you have a large inventory of products and/or services or you frequently need your company website to be updated with new product information, news or special offers then a website with a database may be the more cost effective solution in the long run. And if you are a retailer then why not consider an online shop.
What can we do for you?
AFM could work with you to create a simple, cost effective, powerful web-based business application that can be used by anyone authorised by your business, anytime, anywhere!
Create a system with full support for all major Windows browsers
Ensure a secure hosting environment provides security for your data
Role-based security – to control user access to applications and associated data
Create easy to use multiple collections of data, customize the layout of data, reference/link to data across collections
Produce reports
Import and export data from other databases
Send alerts and notifications automatically to co-workers or customers via email
AFM's team have the technical skills and experience to design and implement your database Your online database lets YOU manage regular website updates in-house.
AFM will train your staff to use and update the database so that your business is independent faster. AFM are committed to long-term relationships with our clients and you can count on us for support if needed.
Remember, you are free to use your system from your office, or your home office… and everywhere in between! You can access everything you need through a browser and an Internet connection.
A database built for your specific needs
All AFM database solutions are built to the needs of our clients by listening to your business requirements, offering experience and advice, and managing the right custom database solution for you with your success and our long term relationship in mind.
What? No training needed?
At AFM we have always been ready and willing to provide training for our software. The fact that hardly anyone ever needs it is something we are proud of.
The main reason is that we design our software for the end user and do not assume they have programming skills.
We have the policy that software should make a task quicker, easier or possible and if an application does not fulfill at least one of those conditions then we have failed.
Would you like to know more?
Whether you have a project ready to go and need the website to make it happen or you would just like to ask a question contact us now on 01953 425 932.